Choosing Bakery Gift Boxes for special occasions
Views: 4 Author: Site Editor Publish Time: 2022-07-20 Origin: Site Inquire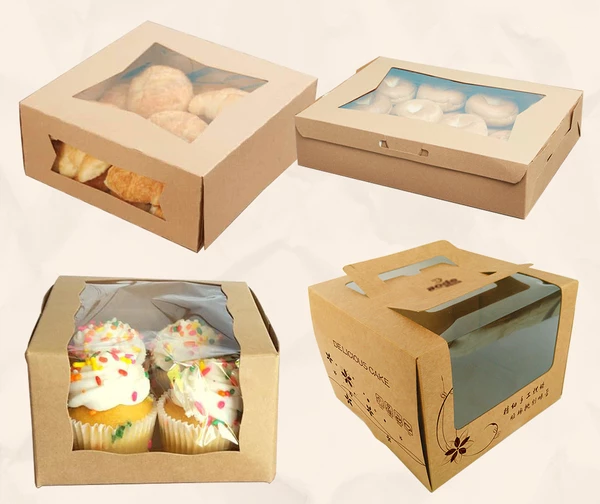 Different occasions call for bakery products. Unlike other house-cooked foods, they have a delicious taste and a tempting aroma, which makes them unique. Bakeries are famous for their cakes. All celebrations revolve around it. Cakes are a necessity for birthdays, bridal showers, weddings, anniversaries, and New Years. Along with them are muffins and cupcakes. Also consumed side by side are pizzas, donuts, pastries, patties, etc.
These bakery products travel a long distance to reach your event, no matter where it is held. Bakery gift boxes play a significant role in this regard. The packaging is designed with delicacy in mind. Food boxes provide a safe transition for products and prevent them from spoiling, getting damaged, or being handled incorrectly. The high-quality Kraft paper also protects bakery items against contamination from any toxic substances.
Create bakery gfit boxes based on the theme of the event:
Bakery packaging is designed according to the theme of the event. In this way, everyone recognizes the nature of the festival. Custom food boxes can be created for the Christmas season or the New Year celebration, for example. Create them with a Christmas theme in mind. For an attractive look, use images of snowy trees, jingle bells, and Santa Clause. These bakery gift boxes can also be customized with a message such as "Merry Christmas" or "Happy New Year." Such customized packaging grabs everyone's attention, and no one is able to ignore the celebrity.
One of the regular events where cake is required is birthdays. Design custom cake boxes with the recipient's name and a wish instead of presenting your cake in traditional packaging. Make the boxes look like birthday boxes. Provide an eye-catching display by using different colors. Personalized service makes customers feel valued.
Furthermore, it is a valuable way to attract new customers and retain existing ones. Bridal or baby shower celebrations usually include bakery packaging solutions as takeaway boxes. The nature of the event can be represented in delicate cookie boxes or cupcake boxes. In the case of a girl, use the color pink, and for a boy, blue. A fascinating food box will make people remember your event for a long time.
Highlight Your Brand:
Designing bakery gift boxes for different occasions inspires your customers and highlights your brand effectively. This increases your popularity and shows your ability to design highly customized packaging for any event. No matter how you customize bakery packaging, don't forget to include your brand's name and logo. People will remember you for their next celebration when they see them as a symbol of remembrance. You also have the opportunity to target a large market with several potential customers. Your bakery box promotes your brand wherever it goes. Other guests may be inspired by your product or its presentation and contact you. Custom food boxes are the perfect way to promote your brand.
Provide A Variety Of Add-on Options:
Moreover, you can introduce different add-on options based on your product requirements to customize bakery gift boxes for special occasions. Your packaging becomes highly appealing and different from others on the market as a result. These innovative features include:
Compartments Or Inserts:
Bakery gift boxes nowadays include compartments and inserts for holding muffins, cookies, and macarons. Multiple types of products can be placed in the same box without spoiling or mixing their tastes. Inserts hold items in place almost without moving. It reduces the risk of smashing your lovely creations.
Window Or Die-Cut Patterns:
Your bakery packaging can be made more attractive by introducing transparent windows or die-cut patterns. Customers can see the tempting delights before opening the box. For products with an attractive presentation, window panes are a valuable tactic. As a result, customer purchase behavior is also stimulated. Your product can be designed with windows and die-cut patterns of any size and shape. Create a fascinating display on one side of a two-tiered cake box for an anniversary celebration, for instance.
Bakery gift boxes with built-in Handles:
Your bakery gift boxes can also be equipped with innovative built-in handles. Easy-to-use packaging is always preferred by customers. Handles on the top of the box eliminate the need for additional packaging, such as paper bags. Furthermore, this unique idea highly inspires customers. Their products can be carried easily without being mishandled. You can even add handles to small cookie boxes that kids get as favors. Unique templates with handles can be used to create such boxes. During assembly, it pops up automatically.
Most bakery gift boxes come with compartments and inserts, especially those for muffins, cookies, and macarons. This method is convenient as bakeries can place different types of items in the same box without spoiling them. Items are held in place almost without movement by inserts. As a result, your lovely creations are less likely to be smashed. The method avoids spoilage and mixing the flavors of different items in one box. Items are held in place almost without movement by inserts. Your lovely creations are less likely to be smashed this way.